I haven't blogged in so long and many things have been happening lately. Jason and I sent out our first newsletters and we had a fantastic open house in Marlette to talk to people about what we have been and are going to be doing in Guinea-Bissau (pictures and stories in a blog to follow). We both got part-time jobs to pay for gas and other little expenses over the next few months. Jason is working in the shipping department at Champion Bus Factory and I am working at Tim Hortons. For those of you who are not from Michigan or Canada Tim Hortons is a donut / coffee / sandwich chain. It's a little bit like Dunkin Donuts or Shipleys but it has a larger variety of food and the coffees are more like a Starbucks (expect that our cappuccinos do come out of a machine).


The biggest thing that has happened to me is that I donated 10 inches of my hair. I've been talking about doing it for so long that Jason didn't think I ever would, so of course I had to prove him wrong.
As you can see, the long hair was just too hot. I pulled it up almost everyday.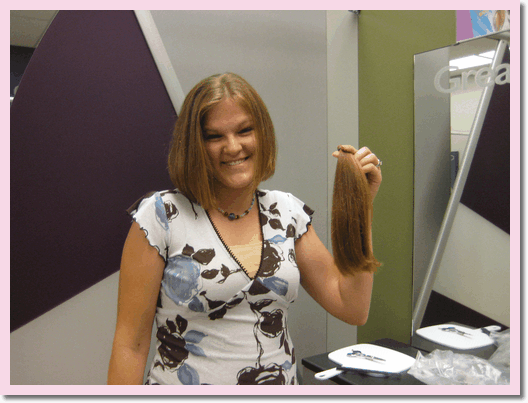 This is a picture of me right after the bulk of the hair was chopped off.


And here's a picture a few days after the cut. Recently I've been flipping it out at the bottom and I like that better, but I don't have a picture of that yet. I'll post one soon and you can tell me which one you like better :-)